At the risk of trivializing "good advice" I could NOT resist drawing upon the contrast of a poorly run company, TV's Dunder-Mifflin, and an excellently managed not-for-profit organization.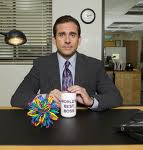 MICHAEL SCOTT's management style of the make-believe paper company's sales office in Scranton, Pennsylvania has led to a recent job opening… HIS.  Most people simply look at the distant, quirky, out of touch management style of Michael Scott, played by comedian Steve Carell, as funny, but the fact is, if your management style is unengaged, just like Michael, you too will be looking for a job or your charitable organization will be going out of business soon. Good managers are involved in problem solving based upon their life experiences.  They are not afraid to get their hands dirty by getting on the front line and helping co-workers with serving those in need.
            Managers who fail usually make themselves the center of attention rather than focusing on the needs and daily obstacles faced by their team members and those in dire need of help by their charity or ministry.  Good managers direct daily activities based upon the solutions they are trying to accomplish in the lives of others, both the people they serve and minister to and the individuals employed by your group.  Don't be like Michael Scott, roll your sleeves up and led by pitching in and helping your teammates.
Now, let's look at the other members of your team.  Is the group you've assembled ready to serve and care for those in need by your not-for-profit organization or are they just punching the clock?
           JIM HALPERT.  Jim has demonstrated great creativity.  He has served Dunder-Mifflin as both assistant sales manager and co-manager.  Unfortunately, his most creative strokes of genius are not helping the company, but are focused more on embarrassing co-workers Dwight and Andy.  If you have a Jim working for you, put him or her to work solving patient problems and being directly in front of those you serve.  The Homeless, the needy, the underprivileged and all those your ministry serves will greatly benefit from his creativity.  Do not let those with great creativity waste the gift on internal problems and "in-house" issues.  Put them on the front line serving those in need and they will blossom each day with the beauty of helping others.
           DWIGHT SCHRUTE.  Mr. Schrute takes his authority to the extreme every chance he gets.  He was the 2005 Salesman of the Year.  His acceptance speech (ghost-written by Jim Halpert) was laced with quotes of Hitler and Mussolini.  Of course, Dwight's day-to-day office antics are not far from Hitlerisk and his endless brown nosing of Michael is so shallow that even Michael can't stand it.  If you have a Dwight working for you the worst thing to do is to NOT put them in charge of something… put them in charge of something important to those you are serving.  You will then be using the ego of "your Dwight" to accomplish the right things for your organization. Most importantly, spurn the brown nosing and only give praise when this person does something to help those being served or a co-worker in need.  Never acknowledge them for helping their up line or themselves.  
          PAM HALPERT.  Every office has a Pam… the smart "girl next door" who does not like to make anyone mad for any reason.  Pam's only desire is to make everyone happy with her.  She will go to any length to be everyone's friend, but Jim's antics and Michael's stupidity constantly keep her in the middle as a peace maker.  The "Pam's" are hard to come by in the business world.  Most of them are run off by the cynics and know-it-alls.  If you have a Pam working for your charity, do not let her get away.  As you build her confidence and leadership skills she will have the right balance of heartfelt empathy and acquired business acumen.  Her co-workers will be positively influenced by her.  Your patients, clients and others in need will be encouraged by her.  Your major donors will be impressed with her stewardship and chose to invest more after seeing her in action.
           ANDY BERNARD.  Andy is by far the smartest employee at Dunder-Mifflin.  He has an MBA from Cornell University and continues to use his text book techniques to make low dollar sales through "name repetition, mirroring and never breaking off a handshake".  He wears his emotion on his sleeve and can get mad at the drop of a hat.  Of course, that is what precipitated his mandated anger-management classes.  Poser's like Andy Bernard struggle at both "getting along" with co-workers and connecting with those in need.  However, the do not do a bad job in selling situations.  If you have and Andy B. on your team, move them into donor relations and work to help them accept "who they are" and confront them when they start to pose or act like someone they are not.  Andy Bernard will be your top performer if you can just get them to be at peace with who they really are.
                 The Office  has provided me with advice whether in the form of silly office terminologies, funny one-liners or hilarious quotes that actually portray the messages of life.  Sometimes these life lessons are as simple as that managerial skills or college degrees are not always what will get you promoted or help your non-profit organization the best.  The most memorable life lessons The Office has taught us over the past five years is that it is our relations with people that matter most.   How do we serve our co-workers and how do we meet then needs of those in dire need of the most basic necessities of human life like shelther, clothing, food and a place to sleep. 
            Our relationships with people are critical to our philonthropic and volunteer activities.  Sure, go ahead and hang that degree on the wall and your vitae is in order, but understand what matters most is how we serve those around us.